Was sind Guided Projects?
Guided Projects (GP) im Informatik Master sind deutsch- oder englischsprachige, intensiv betreute Projektarbeiten in studentischen Teams. Durch praxisnahe Aufgabenstellungen können die Studierenden Problemlösungskompetenz, Selbstmanagementfähigkeit, Teamkompetenz sowie der Fähigkeit zum eigenständigen wissenschaftlich fundierten Arbeiten einüben.
Organisation
Der Studienplan sieht vor, dass jeder Studierende zwei GP vom Typ B sowie eins vom Typ A absolviert. Der fachliche Teil wird bei Typ A und B mit 8 CP gewichtet. Bei Typ A kommt noch ein eigenständig betreutes Prozessbegleitungs-Modul hinzu, in dem individuelle und Teamkompetenzen gezielt untersucht und gefördert werden.
Guided Projects (GP) in Computer Science Master are intensively supervised projects with 8 or 14 CP. GP focusing on Information Systems topics are usually held in English.
In der Fachgruppe ArchiLab setzen wir unsere Guided Projects in aller Regel als agile Projekte um. Agiles Arbeiten und die Hochschulrealität passen nicht ohne Weiteres zusammen – hierfür haben wir ein Lehrkonzept für agile Hochschulprojekte entwickelt, zu dem es auch eine Masterarbeit gibt. Sinnvolle Teamgrößen sind 3-5 Studierende. Wenn ein GP mehr Teilnehmer hat (GP-Teilnehmerzahlen können zwischen 2 und ca. 12 variieren), bilden wir Teilteams.
Die Arbeitslast von 8 CP übersetzt sich in 240h oder 30 Arbeitstage. Wenn man Zeit für Kickoff, Dokumentation und Abschlusspräsentation abzieht, hat sich eine "Semi-Blockstruktur" am Anfang des Semesters (also direkt am 1.3. oder am 1.9. beginnend), wo die Studierenden jeweils 3 Tage pro Woche am Stück und am gleichen Ort (in unseren Räumen) arbeiten. Je nach Projekt ergibt dies 6-8 nutzbare Arbeitswochen (zu jeweils 3 Arbeitstagen).
Verknüpfung der Guided Projects mit anderen Veranstaltungen im Master
GPs stehen in der Regel für sich allein. Sie können aber auch längerlaufende Projekte fortsetzen, die als Fallstudie in vorangegangen Veranstaltungen begonnen wurden.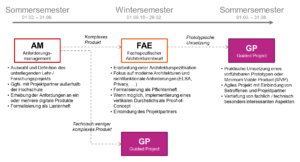 Soweit möglich versuche ich, Anforderungsmanagement als Beginn einer durchgehenden Reihe von Veranstaltungen zu sehen (Anforderungsmanagement => Fachspezifischer Architekturentwurf (FAE) => Guided Projects (GP), siehe Abbildung), bei der ein durchgehendes Lehr-/Forschungsprojekt bearbeitet wird (von der Spezifikation bis zum Prototyp oder MVP). Ob das funktioniert, muss von Jahr zu Jahr entschieden werden, da es von der Verfügbarkeit passender Themen, Projektpartner und personeller Ressourcen abhängt.
Aktuelle Informationen
Informationen zu laufenden und abgeschlossenen Guided Projects finden Sie nachfolgend (aktuellste zuerst).
For informationen on currently running, planned, and finished GP on EAM topics see the following list (most current post first).
Von mir angebotene Guided Projects
Pro Semester biete ich zusammen mit meinen Mitarbeitern in der Fachgruppe ArchiLab üblicherweise ein bis zwei Guided Projects an. Nachfolgend sehen Sie die entsprechenden Kurzschreibungen / Aktualisierungen dazu (neueste zuerst).