Game Learning
+++ Update 10/2020: FutureWorkGBG: Project themes in GBG for students (PDF) +++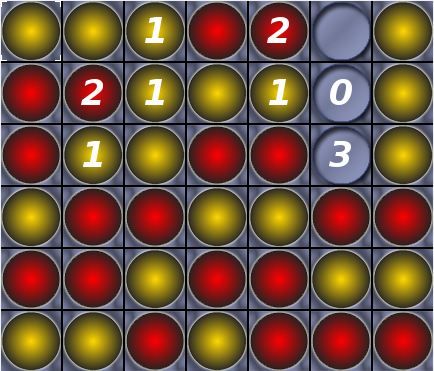 (see also: GBG: General Board Games in CIOP )
Games are of interest to me concerning their strategies and concerning the question whether a computer can learn these strategies just from self-play, without explicitly programming the tactics or performing exhaustive search.
In our research group we study extensively the game "Connect-4" ("Four-in-a-Row"). We were able to develop an agent which learns Connect-4 nearly perfectly just from self-play. Our Java-based Connect-4 Game Playing Framework (C4GPF) is now open-source for interested researchers. Read more…
The long-term goal of our research group is it to transfer these learning strategies to other games as well (2048, dots-and-boxes, go, chess, checkers, Abalone, Sim, …). The related research field is known as General Game Playing (GGP). The aim of GGP is it to develop agents which are able to learn a great variety of games.
The teaching course WPF Spiele + Simulation (in German) gives an introduction to the foundations of simulation, their application in games and in game physics, which deals with realistic kinematics and dynamics for video game worlds.
Project members
| | | | |
| --- | --- | --- | --- |
| | Samineh Bagheri, M. Sc., TH Köln | | Markus Thill, M.Sc., TH Köln |
| | Dr. Patrick Koch, TH Köln | | Prof. Dr. Wolfgang Konen, TH Köln |
Publications Games
2023
2022
2021
2020
2019
2017
2016
2015
2014
2012
2011
2009
2008