+++ Update 10/2020: FutureWorkGBG: Project themes in GBG for students (PDF) +++
(see also: GBG: General Board Games in CIOP )
Games are interesting in computer science concerning the question whether a computer can learn the game strategies just from self-play, without explicitly programming the tactics or performing exhaustive search. This is a branch of artificial intelligence (AI). Many game learning approaches are based on reinforcement learning, namely TD-learning.

In our research group we have studied extensively the game Connect-4 ("Four-in-a-Row"). We were able to develop an agent which learns Connect-4 nearly perfectly just from self-play. Our Java-based Connect-4 Game Playing Framework (C4GPF) is open-source for interested researchers. Read more...
In January'2018 we released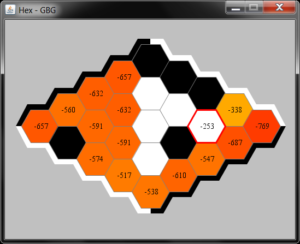 GBG, the General Board Game playing and learning framework to the research community as another open-source project.
https://github.com/WolfgangKonen/GBG
The long-term goal of our research group is it to transfer these learning strategies to many other games (dots-and-boxes, go, Poker, checkers, Abalone, Sim, Othello, ...). The project is related to the research field known as General Game Playing (GGP). The aim of GGP is it to develop agents which are able to learn a great variety of games.
People
Wolfgang Konen, Markus Thill, Samineh Bagheri, Johannes Kutsch, Kevin Galitzki, Felix Barsnick, Julian Cöln, Yannick Dittmar, Johannes Scheiermann
Publications
2022
2021
2020
2019
2017
2015
2014
2009
2008