The Digital Sciences program, offered cooperatively by the Faculties of Computer Science and Engineering, and Information and Communication Sciences at the TH Köln, integrates a wide range of teaching in the disciplines of Computer Science, Information Science, and Data Science as a flexible and highly customizable Master's program (degree: Master of Science).
The Master's degree can be achieved as 90 ECTS (three semester) or 120 ECTS (four semester) program depending on the prerequisite of an applicant. Applicants with a 210 ECTS Bachelor degree should join the three semester turn. Other would take the four semester variant of the Master program.
Six fields of action serve as focus areas. They establish an integrative framework, defined according to the perspectives of technology, application and socio-cultural impact as follows:
Acting Responsibly
Architecting and Coding Software
Designing Innovations and Products
Empowering Business
Generating and Accessing Knowledge
Managing and Running IT
The core concept of the Master program is that students have to fulfill a minimum of credits in these fields of action. The tresholds are as displayed in the following table.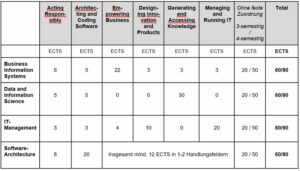 The Master's program is designed for students who wish to extend their skills based on a completed Bachelor's degree in one of the above disciplines (e.g. Computer Science, Business Information Systems, Media Information Systems, IT Management, Code & Context, Data and Information Science, etc.). It is not appropriate for graduates with little knowledge in these fields. It is designed to address individual profiling objectives, support tailored personalized learning paths, and create space for interdisciplinary and agile learning projects as well as appropriate didactic-methodological approaches across disciplinary and faculty boundaries.  Graduates of the Digital Sciences program are qualified for management and leadership tasks at the border between technology and application. Large parts of the study program can be completed in English due to a broad range of English-language modules. In this way, the program is opened up to international students.
Business Information Systems (BIS)
The field of study prepares students to assume bridging functions at the interface between business and information technology. In particular, this includes the ability to develop a deep understanding of the business activities of a company, to penetrate economic fields of action and to derive requirements for IT as well as potentials of digitization in order to contribute to the success of the company through their implementation.
The specialization can be studied by German and English speaking students and also by not German speaking students. Students without German languags skills on C1 level have a smaller catalogue of modules that can be chosen. For details see here  (German and English speaking applicants / English speaking applicants )
Data and Information Science (DIS)
This field of study aims to generate and make available knowledge gained from data and information. Graduates work in companies that depend heavily on the generation of business-relevant knowledge, e.g. from web data, e.g. digital information platforms, online retailers, social networks, online media, etc.. An employment in research or in the facilities of research infrastructures (e.g. scientific libraries, Leibniz institutes, etc.) is also conceivable due to the high proportion of research-centered modules. The specialization can be studied by German and English speaking students and also by not German speaking students. Students without German languags skills on C1 level have a smaller catalogue of modules that can be chosen.  For details see here …. Data and Information Science (DIS)
IT Management (ITM)
This field of study builds on broad knowledge and skills in operational IT management and focuses on strategic IT management. From this perspective, the tasks of setting up, operating and further developing IT are considered. Effectiveness, efficiency and security on the one hand, as well as the design of IT in line with requirements and the support of digital transformation are always in focus. The ability to explore new IT deployment scenarios and technologies as well as to assume management and budget responsibility are also part of this. The specialization is studied by German (C1 level) and English (B2 level) speaking students, only. All mandatory subjects are given in German. For details see : IT Management (in German)
Software Architecture (SAR)
This field of study teaches software engineering oriented towards large and complex systems, which understands IT as a socio-technical system and pays special attention to people and their ways of thinking and acting when creating software systems. It reflects the growing importance of software for innovative digital products and services in our society by enabling graduates to design and implement complex software systems in the context of social, technological and economic conditions. The specialization can be studied by German and English speaking students and also by not German speaking students. Students without German languags skills on C1 level have a smaller catalogue of modules that can be chosen. For details see Software Architecture (SAR)